Welcome to my annual attempt to share what I feel are the best comics of the previous year (in this case, the books of 2017). Before we get to the goods of it all, a few shoutouts.
First to the comics shop that got me started on this path, Comic Quest in Lake Forest, California. You were Little Billy's Funny Book Store for about a year after I found you and then evolved into Comic Quest. You faithfully got issues of Power Pack into my hands in elementary school, X-Men in junior high, Akira in high school, and when I was ready to move away from capes into the late-'90s and Aughts indie scene, you kept me stocked up there too. I went from a dippy little kid to an awkward teen wearing a Diving Tony The Tiger for a necklace to a vaguely responsible adult. Thanks for the times Don et al.
Next, Paul Lai of The Comics Syllabus. You're a good and valuable critical voice and have been a good friend. Dig deep, man!
Last, three books from a few years back that would have pretty easily made my top 5 this year had they been released this year: 1) Come Prima by Alfred (available only on Comixology ridiculously enough), 2) Ordinary Victories by Manu Larcenet, and 3) Aya by Marguerite Abouet and Clément Oubrerie. All three are magnificent examples of the form, delightful expressions of the human experience, and you should seek them out should you find yourself looking for something to read.
Oh! and one other thing. Here's a 31-page minicomic I did fo Inktober this year, if that's your thing. It's very lightly not safe for little eyes, so...
---
Okay then, of course all the usual obnoxious caveats apply: a) that these lists are always only going to be a highly subjective record of tastes of a particular moment in a given segment of time; b) that it's virtually impossible and actually impossible to retain the same memory of a work read in January as it is of one read in November; c) that I of course haven't read a great many of the potentially fantastic works from across the year. All that's the same-ol' same-ol'.
Eligible for this list I'll be including:
Comics printed in collected form for the first time in 2017
Comics printed as books for the first time in 2017
Comics printed as books for the first time in the US in 2017
Comics published on the web in 2017
Comics published through digital subscription services like Crunchyroll in 2017
Important comics reissued for the first time in many years
(Example: I don't read comics as individual issues. Even though the entire Prophet series ended in 2016, it didn't end until 2017 for me because I only read print comics series in collected form. So when I list Prophet, which concluded for me in January of 2017 but seems super far away to you, now you know why I listed it.)
I believe that covers all my bases. Really though, I'm less interested in being a stickler for details than I am in just flat out recommending you some great comics reading from over the last year. So let's do that.
---
1–1011–2021–3031–4041–50
51–6061–7071–8081–9091–100
MetricsExclusions 1Navel Gazing
My Best 100 Comics of 2017
Metrics
Breakdown by
Creator Nationality
These stats were made by the super-scientific means of Googling each creator represented to try to figure out where they were born. In some cases, I had to make a best guess based on where they went to university and where they live and work. So, grains of salt and all that.
These results basically match expectation. Lots of American and Canadian creators feeding the US comics market. A smattering of British books making it across the Atlantic. Lots of Japanese work as well, since happily the manga boom-and-bust left both channels and interest wide open for publishers to bring over quality work. The Franco-Belgian scene accounts for most of the French, Spanish, and Italian creators. As for Vietnam, one is a French book (Saigon Calling) and one is American (The Best We Could Do). Then a handful of outliers. I'd love to see other nations' work better represented but the market and distribution channels just don't seem to be in place yet.
Breakdown by Creator Sex
Here I'll be presenting five charts. The first two will display creators without respect to their creator's role. The others will break down the sexes along the lines of solo creator vs writer vs artist. Apologies, but I won't be investigating inkers, colourists, letterers, or editors. I recognize these are essential creative functions in the production and value of the comic, but 1) I am too lazy to research all those names, and 2) I'm still of the mind that the principal comics product rests on the shoulders of the writer and penciller (though there are of course exceptions).
Additionally, keep in mind that this is going to be my best guess as to the sex of creators, using Google and trying to do the best I can with limited time and resources.
All told in my list there are 207 individual creators represented. I'm presenting the female vs male creators in two ways. The first is according (imperfectly) to contribution. If a creator worked on a book solo, I weighted their contribution double that of just a writer or just an artist. So A Bride's Storywould get 2 points to female creators for Mori taking on both art and writing. Satania gets 2 points to male creators and 1 point to female creators (male writer, male artist, and female artist). Additionally, Chabouté gains 4 points for male creators on the contributions chart because he did art and writing for both Alone and Moby Dick. The second chart here only counts individual creators once, so while Chabouté did art and writing on two books, he only counts once.
Here's the first two charts:
So 38% of all the individual creators (regardless of their contributive weight) involved were female. This is up from 25% last year. The percentage of contribution of female creators is stronger at 43%, nearing parity. This is up from 29% on last year's list. And this relates to solo vs team creators, but we'll get to that.
Next we'll look at the sex of soloists:
And when we talk single-creator books, the 48% female creators here is up from 37% last year, which is up again from 26% the year before last.
Of the Top 10 books, 4 have female creators and each are soloists. This is up from 3 last year, where the top 10 had one soloist, one contributing writer artist, and one book adapted from a woman's short story. This year, 8 of the top 20 books have female creators. Last year, I speculated that while female creators are making more and more great comics, there are so many men embedded in the industry with decades of experience that the numbers, while definitely changing, would still change pretty slowly. What I neglected to take into account is that with more women entering the field and pitching great books, publishers would be offering more books by women and—obviously—a good number of those would be good reads. I think that's what we're seeing, publishers being happier to give women the shot they deserve with us readers reaping the benefits of that shift.
Here's the next two, dividing writers and artists:
Things still look more grim on the team-creators front, though not as bad as in previous years (probably due the same publisher shift phenomenon). Last year on the books developed by team, 12.5% of writers were female, while this year 31% of team writers were. Last year 9% of artists on team-created books were female. That number's shifted to 28% this year. Of course, a sample of 25 books isn't really enough to make much noise about, but there the numbers are if that interests you.
Does this mean there aren't a good number of talented women writing and drawing team-created books out there? Not really. I think more it shows that my tastes run toward certain projects and away from others. There are a lot of great female artists doing work on books from Image and Boom. Probably writers too, but its easier to tell good art at a glance. The trouble is that much of the serial work coming from these publishers doesn't really spark my interest and so a good deal of it goes untried. Image, while still publishing with some breadth, really does seem to have found a niche in a kind of storytelling that doesn't appeal to me so much, and seems to be aimed more at a more youthful mature reader (probably them dirty millennials we hear about on the television news). Lots of sci-fi, lots of fantasy, and lots of hip hip pattering dialogue (kind of like a whole corner of the the industry built up as a celebration of Brian K. Vaughan's stylistic tics). I'll dip my toe in the occasional sci-fi or fantasy pool and often there I'll enjoy myself, but a book being sci-fi or fantasy isn't enough to put it on my radar. Nothing wrong with either; they just don't run to my own partiular tastes in this decade. (In my 20s, I was all about sci-fi and fantasy.)
So not having read the books that a lot of great female creators are working on OR having read them but finding them not to my taste (despite their creators' evident talent), I de facto exclude a lot of the present female talent working in American serial comics simply by not being a reader of sci-fi or fantasy or superheroes. Something to be aware of when trying to understand the male/female metrics in this list.
Breakdown by
Single Creator vs Team
This one gets especially tricky as many creators who get a single-name credit on their books actually employ a team of assistants. This is especially true with manga. Still, for the sake of this article, I'll treat single-credited books as having a single creator.
Additional note: I'm again not counting letterers, colourists, or editors for or against the "solo" designation (for the reasons above), so while Chynna Clugston-Flores and Ben Hatke both employed colourists on their books, I'm still counting them as soloists. And then basically every foreign-language book employs an letterer. Still counting them as solo books.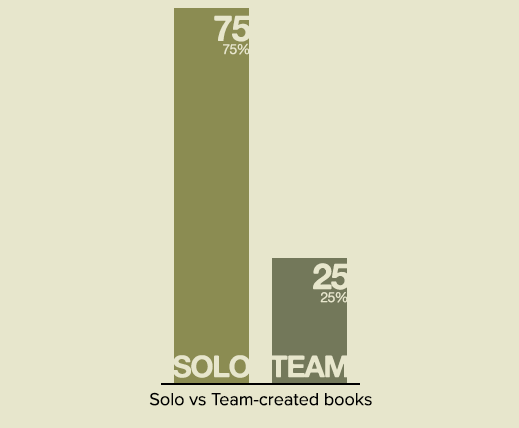 Apparently either single-creator books are generally the best stuff around or I just kind of prefer the kind of stuff that comes out of the singular sense of vision that only comes about when a creator keeps all their fingers in all their pies.
Breakdown by
Series vs One-shots
This is intersting to me because I had a rough and very unscientific impression that I much preferred concise, complete-in-a-volume works to multi-volume stories. And while it's true that only one book on my list (Usagi Yojimbo) is of the no-end-in-sight kind of serial storytelling, it turns out basically half of the books I read and like are part of a series (this makes more sense when one considers how much manga I consume.
Still, colour me surprised.
---
1–1011–2021–3031–4041–50
51–6061–7071–8081–9091–100
MetricsExclusions 1Navel Gazing
Notable Exclusions
There are a lot of books that didn't make it on the list that I'll get questions about or otherwise feel I should mention.
Books I Wanted To Get To
But Just Ran Out Of Time
Every year, no matter how dilligent I am, there's always going to be good books that I either don't get to or don't even hear about 'til after publication. Usually a lot of them. Here's some of the stuff I thought might make my list but couldn't because either 1) I ran out of money and couldn't afford to get it in time, 2) my library couldn't get it in time, or 3) I have it sitting right here but couldn't read it in time. Here are 30 books (in alphabetical order) I wanted to check out but haven't yet.
Abominable Mr Seabrook (I have this but haven't gotten to it yet)
Babyteeth
Bad Machinery (I read this case years ago in its serialisation but haven't had time to revisit)
Black Hammer (superheroes aren't really my genre but everyone tells me to read this)
Bottled
Cici's Journal: The Adventures of a Writer-in-Training
Crawl Space
Cucumber Quest
Delicious In Dungeon (I can't wait to read this)
Extremity
Flintstones
Girl's Last Tour
Home Time
It Don't Come Easy
Josephine Baker (enjoyed Catel and Bocquet's book on Kiki De Montparnasse)
Knife's Edge (Compass South 2 - I liked vol 1 and my daughter is hungry for this second vol)
The Ladies-In-Waiting
M.F.K.
Murder Ballads
My Pretty Vampire
Pretending Is Lying (I have this one sitting right here and have read the first four pages, which were good)
Real Friends
The Retreat
Shattered Warrior
Spera (I like Spera, but just couldn't get to this in time)
Spirit Circle (I read this in Crunchyroll syndication a couple years ago)
Valentine (by the author of The Building Opposite, which was good)
The Visitor Who Stayed
The Witch Boy
Witchcraft Works (looking forward to seeing where vol 10 takes the series)
Books That Almost Made It
This is all stuff that was ranked on some incarnation of the list, but was eventually pushed off in favour of other works. Honestly though, probably any of these could be exchanged with any of the last ten books on the list. They're all good and it was painful to cut them.
5 Worlds - Cool story so far but I'll wait to see how it develops in future vols.
Abe Sapien - Concludes te Abe Sapien series with strength. Still not as strong as Hellboy or the main BPRD series.
Anne Of Green Gables - Really neat looking, though the storytelling was sometimes a touch abrupt; probably needed a higher page count.
Autumnlands - Autumnlands is such a fun series. I'm probably with it for the long haul.
Dept H - Volume 2 definitely makes this a more interesting series, but I keep waiting for it to bust wide open for me. Maybe vol 3 will make it world-class.
Dissolving Classroom - More nice horror from Ito though maybe not quite up there with his best work.
I Hear The Sunspot - I loved the cover of this so much. The story was good but I really didn't enjoy either of the main characters, which meant I had to work a bit harder to get there.
Dragon Year - A good short story by Sam Alden.
Jessica Jones - Glad to have more Gaydos and Jessica Jones. The story asked for a little bit more suspension of disbelief than I was really prepared to give.
Kill Or Be Killed - Always happy to see more Brubaker and Phillips. They should hire a letterer probably.
Newsprints - Interesting start to a young readers series. Looking forward to seeing where Ru Xu takes it.
One Trick Pony - Fun post-apocalyptic sci-fi alien romp.
Park Bench - Really pretty. Kind of like a sentimental version of Richard McGuire's Here.
Reindeer Boy - Fun YA goofiness/romance about Santa's reindeer (who are weredeer). Looking forward to seeing more art projects from Cassandra Cain.
She And Her cat - Neat little prequel to the original 5-minute She And Her Cat short.
Spinning - As always, Walden's art is gorgeous. Maybe even perfect. The narrative here is a bit ramshackle though. The ice-skating bits are strongest and while the personal reflection and life-building moments outside the rink can be powerful, I felt they ultimately distracted from the flow. In honesty, I think this project would have worked better as fiction informed by Walden's experience (as she's proven over the last couple years to be a superb storyteller) or strictly as a deep dive into the skating life. Autobio is incredibly difficult to pull off in an ultimately satisfying way, and that a 20yo should stumble a bit in the attempt is no shame.
Tegami Bachi - Pretty art and some rousing moments, but ultimately, the Power Of Friendship genre still feels a bit naive/weak.
The Only Child - I read this earlier in the year and thought well enough of it but it just didn't stick. Maybe a reread would help.
Wires And Nerve - A fun side-romp from a YA series that I haven't followed at all (I used Wikipedia to get me caught up on character and plot); fans will appreciate it more.
You & A Bike & A Road - Some sublime moments (when Davis posted the part with the man in the river, I was soberly blown away).
1–1011–2021–3031–4041–50
51–6061–7071–8081–9091–100
MetricsExclusions 1Navel Gazing
Navel Gazing
Coming up with a ranked list of things for a personal site or post on Facebook is entirely different in nature from ordering things for a Serious Critical Outlet (which I vaguely pretend to be). I can't just post What I Liked because 1) I have a site mission to consider and 2) for the list to be recognized as worthwhile to most readers, it has to contain enough of those things that other people would list to seem legit.
And while I never cheer on popular books that I hate just for the concept of earning legitimacy, there's always a bit of artificial list reorganization that is maybe even subconsciously designed to appeal to a readership. And maybe I'll even bump up a smallpress indie book that you can't even buy because Man that makes it feel like I'm serious about comics and you should trust me. (By the way, I *am* serious about comics and you definitely *should* trust me.) But maybe I won't do that. Most of these motivations are present but subconscious.
Does the fact that I'm on friendly terms with some creators give those books a bump? I don't see how it couldn't, even if I'm not conscious of it happening. When you read a good book by a stranger, you think, "Hey that was good!" When you read a good book by a friend, your naturally warm feeling for that other person blends with your experience of the book (because nothing social occurs in a vaccum) and now you think, "Man, that was a good book! I loved it!" And of course friendship also tends to soften criticism as well. Because we're not robots, you and I.
Also, I have to balance in some sort of subjective rubric for valuating a) What I liked with b) What is valuable and c) What is high in craft-quality. Every year, I find creating the list more daunting and more frustrating. Especially since not only is #26 not substantially "better" than #27 but also #26 is likely not substantially better than #45. I mean, it's a good problem to have. Lots of good books to read. And more every year. Essentially, we will never run out of good comics to read. It's like a golden age or something.
Good Ok Bad features reviews of comics, graphic novels, manga, et cetera using a rare and auspicious three-star rating system. Point systems are notoriously fiddly, so here it's been pared down to three simple possibilities:
3 Stars = Good
2 Stars = Ok
1 Star = Bad
I am Seth T. Hahne and these are my reviews.
Support me by buying my art on Etsy
Review copy submission may be facilitated via the Contact page.
Browse Reviews By
Other Features
Popular Sections:
Best Books of the Year:
Other Features:
Connect
Comics by Seth T. Hahne